The classification of prewar architecture refers to buildings constructed between 1900 and 1939, therefore, prior to World War II, and often built before the first World War. Many mid-high-rise apartments were erected in New York during this time period, representing a significant shift in the building structure at that time. People left their farmhouses and Victorian mansions in small towns to relocate to bigger, bustling cities.

There are several qualities specific to prewar buildings, and many examples can be seen on New York's Upper West Side. Homes of this era featured considerable charm, as the demand for apartments possessing "all the comforts of home" became popular, as per a 1909 New York Times article. A great deal of consideration and craftsmanship were incorporated into these residences. The unique and prominent architecture of these properties still attract home buyers today.

The following post will explore all the intricacies and qualities that comprise prewar architecture, and will introduce some world-renowned architects, in conjunction with discussing the prewar designs for which they remain famous. Let us begin by defining prewar architectural characteristics.
Hardwood Floors
Flooring was typically constructed of solid oak. Most prewar homes boasted thick wooden door frames, window frames, and ornate stair banisters (where applicable). Floors were often patterned, mainly laid in a herringbone style.
Moldings
Moldings represent an ornamental element. They are usually made of wood and are generally featured in the format of crown or baseboard moldings, as well as ceiling medallions, featuring delicate, intricate millwork.
High Ceilings
The sense of feeling "closed-in," especially in one's own home can be quite disconcerting. Much like today, people enjoyed the distinct element of high ceilings. Prewar homes were known for high, beamed ceilings, measuring a minimum of 9 feet above ground and sometimes higher. This design element is carried over from Victorian-style architecture, representing ceilings as high as 12 feet tall.
Fireplaces
Fireplaces have been commonly found in American architecture since the 1700's. This feature remained popular during prewar times, so popular in fact, that President Franklin Roosevelt's radio speeches were appropriately referred to as "fireside chats."

Additional prewar architectural elements include:
Generous room proportions and expansive layouts;
Sophisticated architectural details;
Built-in bookcases and closets;
Durable construction including solid wooden doors and hand-finished plaster walls;
Unique archways;
Brass door handles;
Expansive, formal rooms;
Separate kitchens;
Ornate tile work displayed in kitchens, bathrooms, and on fireplace hearths;
Grand foyers;
Buildings boasting beautiful (and often ornate) lobbies.
Now, let us explore the accomplishments involving two world-renowned architects, Emery Roth and Rosario Candela, both of whom designed several distinguished prewar buildings on the Upper West Side of Manhattan.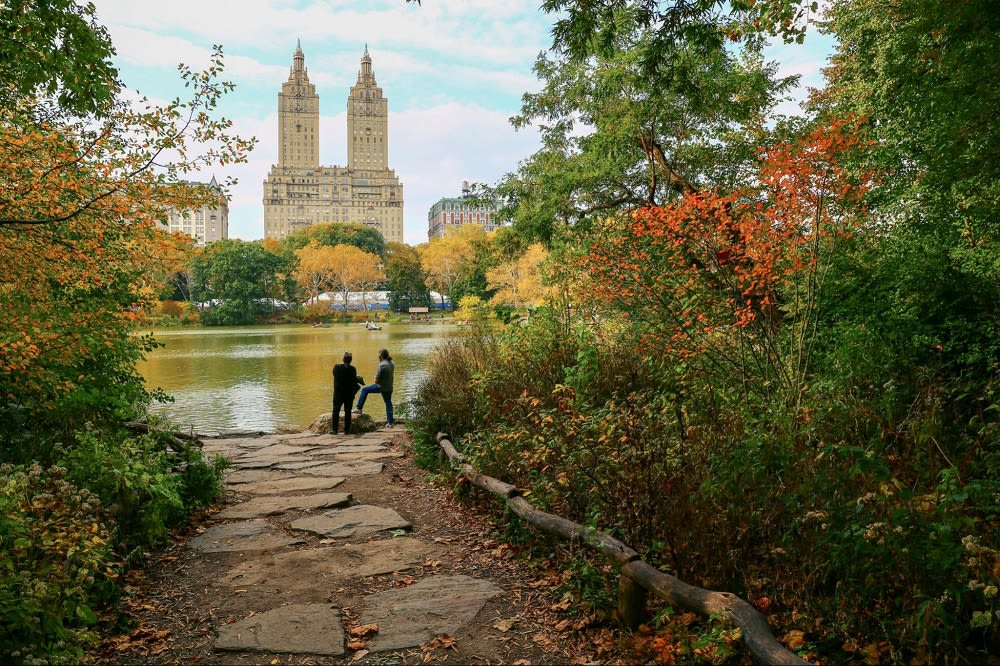 Emery Roth
Emery Roth emigrated from Hungary, arriving in the US in 1884. He began his journey in Chicago and made his way to NYC, where his talents were recognized by leading architects who mentored him. Roth steadily built his reputation designing prewar hotels and apartment buildings that were, and continue to be, highly revered and admired. He also incorporated Beaux-Arts and Art Deco details within his buildings. His legacy lives on in some of the most famous residential buildings in NYC, including the El Dorado, San Remo and Beresford.

The El Dorado is a luxury cooperative constructed circa 1929, boasting 30 floors. This iconic landmark is one of Roth's most celebrated achievements. It is easily recognizable by its sky-scraping twin towers that are incredibly majestic, especially when lit at night.

This Art Deco-inspired building features painted metal finials, futuristic sculptural details, and geometric decorative elements and patterns. These elements, along with contrasting materials and textures, render it one of the city's most noteworthy Art Deco structures. The building's symmetrical massing and featuring terraced setbacks are comparable to Roth's classically detailed Beresford building.

Another luxury cooperative apartment building designed by Emory Roth is the famed San Remo Building, which features twenty-seven floors and is located at 145 and 146 Central Park West. The historic building's two towers feature stunning marble walls and bronze frosted glass custom lighting fixtures. Built in 1930, the San Remo offers spacious units that can span over 2,500 square feet and feature high ceilings, crown moldings, with many lines boasting expansive Central Park views.

The Beresford, a luxury, 23-floor apartment building, is considered a true New York City landmark. Its name is derived from the Hotel Beresford, which previously occupied the site. This specific Roth design was completed in 1929. It is one of NYC's most elite coops, running along Central Park West and 81st Street. The building features Italian Renaissance stylings, presenting a limestone base with a collection of creatures adorning the walls, including winged cherubs, dolphins, and rams' heads.

This highly revered creation is built around a T-shaped courtyard that opens to the west, providing air and light to the interior-facing rooms. The Beresford has two prominent street-front facades, crowned by three distinct octagonal copper-capped corner towers. The eastern facade overlooks Central Park, while the southern one overlooks Theodore Roosevelt Park, home to the American Museum of Natural History.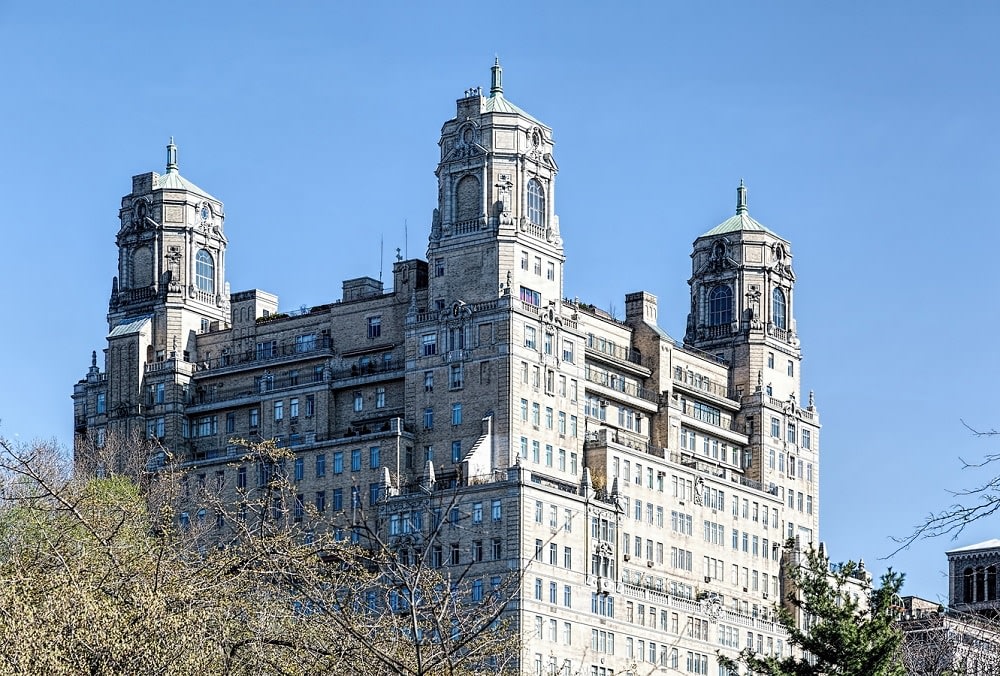 Credit: New Yorkchitecture
Rosario Candela
Rosario Candela, a Sicilian-American architect, created designs which significantly impacted Upper West Side real estate, as well as the entire architectural world. He is credited with defining NYC's characteristic terraced setbacks and trademark penthouses. Candela designed several residential buildings on the Upper West Side in the 1920's, located primarily on Central Park West, West End Avenue and Riverside Drive. During this time, the West Side was undergoing a significant change, transforming from mostly single-family homes to apartment buildings.

Candela's building, 360 Central Park West, boasts a classic 1929 design and contributes to the Central Park West Historic District. The building has since been renovated by CetraRuddy Architecture in 2016, though the design team painstakingly preserved Candela's original limestone exterior. Interior modifications include bedrooms with ensuite baths, radiant-heated floors, state-of-the-art kitchens with concealed appliances, including custom copper hoods for stoves, five-inch solid oak floors, and assorted luxuries. The remaining design elements emanating from the 1920's include coffered ceilings, crown moldings, and oak herringbone floors.

Candela's magnificent 75 Central Park West cooperative was built in 1928, a fantastic example of neo-renaissance architecture. 75 Central Park West contains approximately 58 residences and features a full-time doorman and concierge.

The Clayton represents Candela's first private commission. It was built in 1922 and was the tallest building on the Upper West Side at the time. Andrew Alpern, the architecture historian, called the Clayton a "self-assured building with a large entrance lobby of strong visual impact." The imposing, Renaissance-style tower boasts 146 units and 15 stories.

This building is indicative of another one of Candela's Upper West Side masterpieces. The Clayton is known for its elegant layouts, corner residences, and well-scaled rooms. Upgrades have been made to the building, though Candela's initial designs have generally been preserved, in order to refrain from infringing upon his legacy. The renovated structure features prewar charm, replete with contemporary amenities suitable for modern New Yorkers.

Contact the West Side Advisory Team once you are ready to commence a search for a home on the Upper West Side. This esteemed real estate team will find you a picturesque brownstone, or a beautiful coop or condo, one which you will cherish for years to come.